Aussie Honey Gold mangoes unveil a new look
---
Queensland-based Piñata Farms has unveiled a new look for its specialty Honey Gold mangoes this season.
The brand refresh includes retail carton packaging featuring a white background overlaid with stylised mango elements in orange and green.
Each packhouse will also display a unique GS1 code for traceability on its mango stickers.
The new codes will enable better tracking across the supply chain.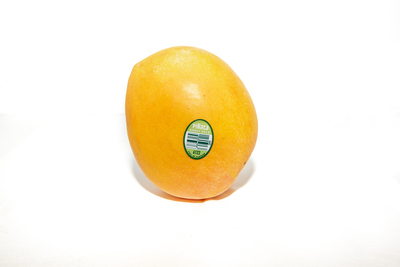 Honey Gold mango with GS1 coded sticker.
The news will affect the company's 30 contracted Honey Gold mango growers, who are scattered across all mainland states except South Australia.
Sales and Marketing Manager Rebecca Scurr said the refreshed fruit stickers and updated image reinvigorated the brand and enhanced its premium positioning.
"A light Piñata green sticker is synonymous with Honey Golds. The fresh, vibrant look both retains brand recognition and helps Honey Golds stand out in mango displays," Scurr said.
"We've also updated our workwear, including forest-green polo shirts for customer-facing personnel and updated yellow and orange high-vis shirts for farmworkers."
The refreshed brand will be extended to Piñata's current range of pineapples and its strawberries, which are coming next winter in an updated punnet.
Images supplied by Piñata Farms