Food manufacturers saving with solar
---
Food manufacturing is a power-hungry business and the rising cost of electricity is presenting challenges for the industry. In response, some manufacturers — both big and small — are choosing to switch to solar, resulting in significant energy savings along with reductions in carbon emissions.
Two of Australia's leading smallgoods manufacturers — Tibaldi and D'Orsogna — have recently made the transition to solar with some of the largest roof-mounted systems in Australia.
Last year, Tibaldi installed a 1 MW roof-mounted solar system with 2962 panels. The system was cashflow positive from day one, provides more than $330K in annual energy savings and cuts 1537 tons of emissions annually.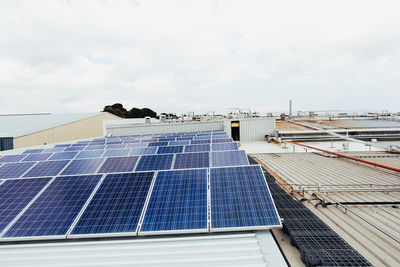 Tibaldi
Tibaldi CEO Greg Ridder said they are always looking at innovation and sustainability of the business, so using the amazing amount of roof space on site for a large-scale solar system was an easy decision to make.
"This will help lower the cost of electricity, provide environmental benefits by reducing the reliance on the grid and also make Tibaldi more competitive."
Similarly, in 2019, D'Orsogna decided it made sense to utilise its vast roof space for the creation of its own energy supply while making a strong public commitment to sustainability.
Its 8500 square metres of rooftop solar powers a one-megawatt system that will be cashflow positive from year two, saves $210,197 on electricity each year and cuts 1883 tons of emissions annually.
It's not just the larger manufacturers and food producers who are tapping into solar. Small to medium-sized businesses are also choosing to make the green switch — like Integrity Fruits in the Goulburn Valley, which installed a 100 kW solar system.
Integrity Fruits
With tight profit margins and high labour costs in mind, Integrity Fruits Orchardist Peter Hall looked to gain efficiencies in other areas of the business.
"It all started when we started to requote our electricity contracts," Hall said.
"We're happy that it gives staff the sense that we are progressive; that they're working for a company that's innovative. It's good for people, for our region, for the environment and the world."
For businesses in the industry considering a move to solar, D'Orsogna Managing Director Greig Smith provides the following advice and insights:
When researching solar: There are number of solar system providers in Australia. Go with those that have a proven track record and source and supply solar panels and inverters from leading manufacturers.
Installation: The key is in choosing the correct solar system provider. Make a short list of the top two or three providers based on the quality of the equipment they supply, guarantees and their after sales service. Then negotiate the best price, guarantees and service package.
Post-installation: In the price of the project, negotiate a service package to be included into the deal. To get the best performance out of your system it needs to be maintained and the solar panels need to be kept clean. This will ensure you get the best return and longevity out of your solar project.
**************************************************
Did you know?
Making solar possible with government-enabled funding
Have you heard of Environmental Upgrade Finance? Also known as 'building upgrade finance', it is a government-enabled funding mechanism for upgrading existing building stock to be more environmentally friendly. Business owners can take out a long-term, fixed-rate loan for the total cost of the works, which is then repaid through their local council's rates system. Examples of projects that could qualify for this type of finance include solar installations, lighting, heating, ventilation and air-conditioning upgrades along with water and waste minimisation. To be eligible for the finance, building owners must pay council rates, ensure the planned works are improvements to non-residential buildings and deliver environmental benefits, such as energy, water and waste savings. The finance is currently available through councils in Victoria, New South Wales and South Australia.
Sustainable Australia Fund is a provider of Environmental Upgrade Finance. Originally established by the City of Melbourne in 2002, in 2019 the fund was recapitalised and scaled, through a partnership with Bank Australia, to drive environmental upgrades across Australia.
For more information, visit: http://sustainableaustraliafund.com.au/.
Image credit: ©stock.adobe.com/au/azurita
---