Glossy sweets: production improved by controlling humidity
---
Achieving a glossy, attractive finish on confectionery products is essential. The final coating on scorched almonds, chocolate-coated sultanas and similar items is achieved using a confectioner's glaze. Shellac is the main ingredient in the glaze and it is very sensitive to relative humidity (RH) levels. RH levels higher than 55% can cause the finish to become patchy or cloudy. Moisture Cure Commercial was able to provide a humidity control solution to improve productivity for Gourlay's Famous Sweets.
Gourlay's Famous Sweets (since 1896) is a sweet retail and confectionery manufacturing business in Launceston, Tasmania. 25 years ago a line of sweets was added using the panning process. It involved having a panning machine, which is like a large cement mixer, where the nuts or other product are placed in the pan then tumbled while chocolate is added over several hours. This gives a smooth, even chocolate coating over the nuts. The final step of the process is adding confectioner's glaze to improve the appearance and extend the shelf life.
Located on the cool and humid north coast of Tasmania, the sweet manufacturer needed to control the humidity in the panning room where confectioner's glaze was applied. High interior humidity caused by wet weather would stop production until dryer conditions prevailed.
Gourlay's contacted Moisture Cure Commercial to provide a 50% RH environment in their panning room even during the wettest season. The humidity and temperature requirements were suitable for a refrigerant dehumidifier. Moisture Cure Commercial was able to calculate the required capacity based on climate data from the Bureau of Meteorology and recommend a 96 L/day machine. It was then able to match the requirements to an appropriate model.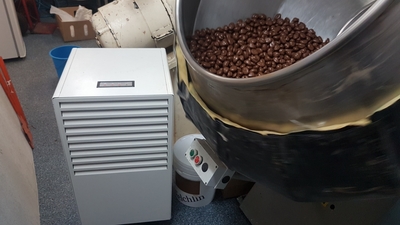 The FRAL FDNF 96 dehumidifier was selected for the project and the specifications and calculations were sent to Launceston. The portable FDNF 96 was recommended, rather than a fixed model, to allow the machine to be used in other areas of the factory for drying spills or leaks. Portable dehumidifiers have an integral reservoir for the condensed water so no plumbing is required.
The FRAL FDNF 96 provided Gourlay's Fine Sweets with an effective solution that enabled it to continue production despite wet conditions.
The Gourlay's management team was highly satisfied with the system. "Up until we purchased your humidity machine, we had to wait for low-humidity days. With your machine we can glaze more often with the humidifier pulling moisture out of the air, very often half a bucket in four hours. This allows us to be more productive in this type of work," said Michael Wood, Gourlay's Fine Sweets Manager.
Moisture Cure Commercial has a range of high-capacity dehumidifiers to control the humidity in most production rooms. Desiccant machines are recommended in cool rooms or where the RH must be very low (<40%). Refrigerant dehumidifiers have low power consumption and running costs while still achieving RH levels as low as 40%. They work best at temperatures higher than 15°C. The machines have been used successfully in confectionery production all along the east coast from Queensland to Tasmania. Actively controlling the humidity allows production to proceed regardless of the weather.
Top image credit: ©stock.adobe.com/au/Dmitri Stalnuhhin
Related Products
At Foodtech Packtech 2021 in New Zealand, HRS Process Solutions will be showcasing its DSI Series...
Urschel has released the Affinity Integra-D cheese dicer.
Dwyer Instruments' range of probes uses a Bluetooth Low Energy (BLE) signal for easy...
---