From Adaptive Eggs to Bee Innovative, Aussie tech revealed
---
An on-the-spot food testing device that can detect lactose in lactose-free products and point-of-lay egg sensor technology that can reduce waste are two of the nine Aussie technologies revealed today by a CSIRO-powered research accelerator. Some of the other innovations relevant to the food industry include a sensor that gives robots a sense of touch and a sensor to track and monitor bee pollination to increase crop yields.
The innovations are the creations of the teams participating in ON Accelerate, an accelerator program dedicated to unearthing amazing research in science and technology and steering it towards commercialisation.
This year's cohort, Accelerate5, has spent the last 12 weeks turning their research-led ideas into real-world solutions. ON's Accelerate5 Demo Day was held on 2 May 2019.
Adaptive Eggs technology is designed to improve sustainability within the egg industry by providing a new way to identify male eggs early, thus avoiding the costly and undesirable culling practices in the egg laying industry. According to team member Caitlin Cooper, 7 billion eggs are wasted globally each year and the Adaptive Eggs technology can help by turning this waste into high-value product. The point-of-lay technology is industry scalable and prototypes are available now.
Bee Innovative is designed to maximise bee pollination to increase crop yields. A radar-like sensor identifies, tracks and reports bee pollination activity across orchards and fields in near-real time. The team of Kate Lyall and David Lyall turns flowers to food by improving the bee pollination process. According to David, the size of fruit depends on how many times a bee has visited the fruits, so Bee Innovative is designed to also increase the yield of premium-sized products such as the blueberries shown below.
Before Bee Innovative.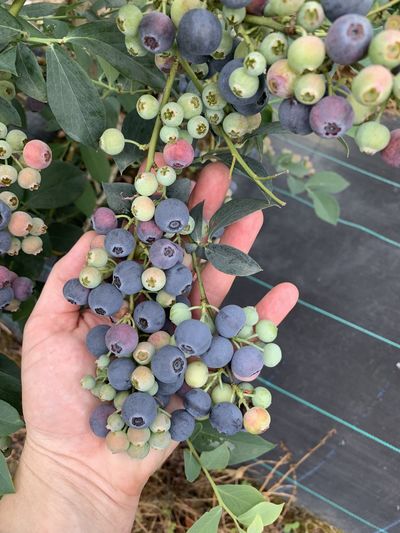 After Bee Innovative.
Parts Per Billion is an on-the-spot food testing device about the size of six-pack Esky. It can detect almost any molecule of interest to deliver lab-quality results for food producers and processes. The innovation team for this product includes Stephen Trowell, Jo Davey, Alisha Anderson, Florence Bravo and Karine Caron. According to Trowell, the test can, for example, detect lactose in lactose-free products in minutes compared to weeks spent previously, as the product was required to be sent to off-site laboratories.
Contactile is designed to give robots a human sense of touch. A tactile sensor provides the sensory advantages of the human hand without the physical limitations related to size and strength, while also enabling robotic gripping with just the right amount of force. The team of Heba Khamis and Benjamin Xia is now looking to commercialise the sensor prototype.
David Burt, Executive Manager of ON, commented: "This year's Accelerate cohort once again shows the exceptional science coming out of Australia's research sector. We've spent the last three months working with the teams to take their innovative ideas out of the lab and into the real world. The outcome is nine solutions that have the power to truly transforms everything from farming to precision health care."
Other innovations presented on the Demo Day included: Advanced Genetic Test to determine the risk of a heart attack; IRIS to reduce cheating in online assessments; Innovia Medical to treat abcesses without surgery; MGA Thermal to improve thermal energy storage; and N1 Analytics encryption technology to allow businesses to share data externally without the risk of data loss or data misuse.
To find out more about the other innovations, visit www.oninnovation.com.au.
---