Customised separator increases ghee production by 30%
---
India produces around 5 million metric tonnes of ghee every year and it is claimed to be the second-largest, milk-based product consumed in India after curd.
GEA has now created a bespoke ghee processing separator that has improved production for Indian milk union Amul Dairy.
The serum separator has reduced fat losses by 85% and increased ghee production by 30% with no additional investment in the already existing plant.
"GEA's custom-designed centrifuge has transformed our Ghee production," said Amit Vyas, Managing Director of Amul Dairy.
"After installing the GEA separator, we were able to dramatically reduce our fat losses — from 2% down to 0.3% in the serum part — while increasing ghee production capacity by almost 30%. We achieved our ROI in less than a year, with the added benefit of improved safety, hygiene and energy efficiency."
The GEA team worked closely with Amul Dairy to develop a bespoke solution, taking time to understand the nature of the process.
Thomas Veer, Product Manager Sales, Separation and Flow Technologies Division at GEA, said: "Amul's previous ghee production unit had a conventional pre-stratification set-up which resulted in high-fat losses on the order of 2%. With thousands of litres of butter melted every day, the 2% fat loss significantly impacted their bottom line. The traditional set-up also posed operational challenges and was problematic with regard to safety, hygiene and energy consumption."
With a capacity of 3000 L/h, the new separator allows Amul to bypass the conventional pre-stratification set-up and scale up its production to generate an additional volume of six metric tons per day with no additional equipment or investment in the plant.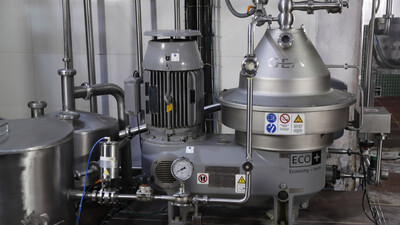 GEA serum separator.
Amul Dairy's new installation has also reduced the load on its effluent treatment plant (ETP).
Image credit: GEA/Amul Dairy
Related Products
Kaishan's range of Permanent Magnet Rotary Screw Compressors is claimed to deliver up to 50%...
Tetra Pak now has a new cleaning method using Air Jet technology that takes only 30 min each time.
The SupaMap Specialty Gas product range at Supagas has been developed for use across an array of...
---