Clarifier improves productivity for brewer
---
Italian brewer Brewfist had some clear processing goals when it looked to expand its brewhouse near Milan. These included ensuring that oxygen pick-up between the end of the fermentation process and bottle filling was no greater than 30 ppb, reducing process time and ensuring consistent quality without making the beer too 'yeasty'.
To assist Brewfist in meeting its production goals, a Seital clarifier with a hermetic mechanical seal designed to minimise the risk of oxidation was utilised. Hydraulic seal machines had previously been tested but did not meet Brewfist's requirements to limit oxygen pick-up. The Seital technology went beyond original requirements and expectations, producing oxygen pick-up of less than 10 ppb. This good performance resulted in high levels of consistency in terms of product clarity and lower yeast content.
SPX Flow Seital clarifiers use vertical disk stack centrifuge technology.  Alongside high-quality product output, the efficiency with which these units operates meant that production time for fermentation at Brewfist could be reduced from 16 to 11 days and maturation time from 6 weeks to 3–4 weeks. This significant improvement in productivity meant that annual capacity could be increased to meet growing market demands without investment in additional tanks.
Seital centrifuges are further designed with highly efficient gear or belt drive transmissions, continuous vibration monitoring and automatic solids discharge to offer excellent reliability with long maintenance intervals. Precise control and adjustment of the machine is provided through an intuitive operator interface to ensure the process is providing exactly the right product characteristics.
Pietro di Pilato, one of the owners of the Brewfist company, commented, "We are very satisfied with the Seital clarifier. It is very user-friendly and I like the taste of the beer after it has gone through the centrifuge. The machine has worked for 750 hours without requiring maintenance, which provides low service and maintenance costs."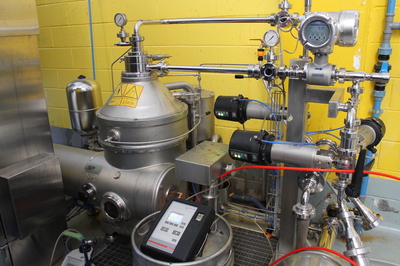 Seital separation and clarification equipment is designed to maintain hygienic conditions and offer gentle processing to ensure favourable product characteristics are preserved and consistent, reliable production is achieved. Machines offer high reliability and are supported by a range of remote monitoring services to help ensure maintenance costs, and risks to production time due to unexpected problems are minimised.
Related Products
Kaeser has launched its next-generation heatless regenerated desiccant dryers.
The HRS BP Series Piston Pump can handle delicate foodstuffs without damage, while working at...
The Atlas Copco VSD+ app allows a range of vacuum pumps to be controlled and monitored in real...
---