Sponsored
Sealstrip resealable packaging solutions
---
Within the packaging solutions arena, Sealstrip stands out as a leader, proudly presenting two revolutionary products - Peel&Seal and FreshPak, both accessible through Result Group. These advancements transcend mere package sealing; they serve as agents of transformation, systematically curbing waste and simplifying package resealing without the reliance on conventional zippers. With a remarkable 50% reduction in plastic usage, as zippers become obsolete, Sealstrip champions sustainability, benefiting brand owners, consumers, and recyclers alike.
Peel&Seal
The Peel&Seal reseal system provides frozen food and other packages with a consistent and reliable reseal feature. Peel&Seal is an in-line packaging system that can be fitted to your existing, or new, vertical or horizontal form-fill-seal bagger and operates at your line speeds. The Peel&Seal applicator utilises a smooth rotary unwind that provides efficiency and durability. The applicator does not use heat to apply, resulting in consistent quality packages at any speed.
To reseal, the consumer lifts the dry edge of the tape, rolls down the bag, and uses the tape to seal down the rolled bag. One end of the tape always remains anchored to the package. As the product is used, the package rolls down further, using "fresh adhesive" tape to reseal, and resulting in a more compact bag for storage.
Easy to use
Space efficient
Safe product – the package rolls down
Visual trigger to buy more
No additional packaging film
More compact bag for storage
FreshPak
FreshPak is easy to open, easy to reseal and tamper evident. There are no tracks to line up so FreshPak is easy for anyone to use, especially children and seniors. Using graphics based tamper evidence, opening and reclosing the FreshPak causes a misalignment of the graphics, visually signalling to the consumer the package has been opened.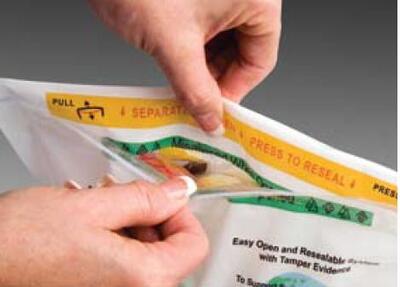 FreshPak is an in-line reseal packaging system that can be fitted to your new or existing VFFS or flow-wrap packaging machinery and operate at your current speeds. It is high speed and efficient; cost effective; and no additional packaging film is required. The system does not use heat to apply the material, resulting in consistent quality packages at 10ppm or 200ppm.
Recycler
Reduced Reseals Material – 50% less plastic than a zipper
Reduced Soft Plastic Film – No Headspace Needed
Reseal Tape & Soft Plastic Film matched – mono construction
Brand Owner
Packaging becomes functional – Brand Recall
Packaging reduces – 2025 Target contribution
Packaging Supports Food Waste – 2030 Target contribution
Production Improvements – less complicated to make
Consumer
Food Waste is Reduced
Packaging is Reduced
Interaction with Packaging and Brand
Originally published here.
Related Sponsored Contents
Discover the impact of the revolutionary game changer in Inkjet Printers offered by Result Group...
Machine vision gives machines the gift of sight, replacing or complementing manual inspection...
Henkel has launched the TECHNOMELT Supra 081 ECO into the Australia and New Zealand market.
---