How can food manufacturers halve waste?
---
The CST Wastewater Solutions KDS separator system was displayed at the recent FoodTech Qld exhibition. It is designed to remove 50% of the water from wastewater sludge, creating a more compact output ready for transport to a treatment centre.
"Food and beverage companies are highly aware of the need to dispose of waste responsibly. But small-to-medium operations can't afford to install expensive processing, compacting and drying plants at their own facilities, so they need to have it carried to a dedicated treatment centre — usually by road. That's where the costs can start to add up with sodden or wetter wastewaters," said Michael Bambridge, Managing Director, CST Wastewater Solutions.
CST Engineer Peter Bambridge (left) showcases the company's KDS liquid-to-solid separator technology using a miniature model.
"Compacting the wastewater onsite prior to transportation can lead to significant savings, particularly when you consider that it can cost upwards of $150 a ton to move by specialised transport."
The smallest separator system available is approximately 250 mm wide with throughputs of one cubic metre or one tonne every hour, depending on the application. The clog-free automatic technology is suitable for compact dewatering applications including: food processing waste, seafood processing and abattoir, feedlots and dairy farm wastewater and sludge.
"The machine can be placed into existing facilities without the need for a major upgrade of the overall space," Bambridge said.
Used for thickening of dissolved air flotation sludge, the KDS liquid-to-solid separator is claimed to achieve solids capture of 97% thickened sludge at a dryness of 17%. Waste activated sludge dryness levels are typically 15–25%.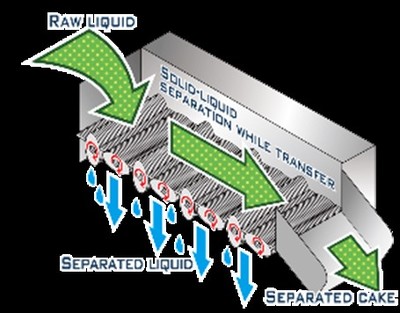 The dry cake created by the KDS system (above) is due to compaction technology that separates off a large percentage of the liquid, as shown in the graphic.
Related Products
The OMRON HD-1500 mobile robot has a heavy payload capacity of up to 1500 kg.
CMTP has received HACCP certification and can now produce a special range of Pal-giene certified...
The Festo EXCT 2-axis linear gantry uses parallel kinematic principles to deliver good dynamic...
---