Palletising bulky and unstable packages
---
There are many options available for companies wanting to palletise bulk products like bags, bales and sacks. Conventional layer machines and robotic pick-and-place systems are commonplace in many facilities, although they're not always suitable for handling unstable or irregularly shaped packages without some form of modification. This article looks at the pros and cons of these traditional methods in the context of handling bulky, and sometimes unpredictable, packages.
Conventional palletising
Conventional layer palletisers utilise a stripping plate arrangement combined with side squarers, which ensure that layers of product are uniformly positioned on the pallet. The ability to form precise pallet loads is an obvious strength of these palletising systems; however, they tend to be more suitable handling products that have consistent shapes and sizes, largely due to the infeed handling systems that are utilised. The systems often accumulate product against each other in rows and repeatedly push these rows to form layers. More complex patterns require packs to be rotated and spaced apart from each other, and often in multiple lanes. Devices like bump turners, line dividers, split conveyors and row spacers are added to the product infeed system to ensure product positioning. If you're trying to palletise something like a lumpy sack of potatoes, this system may not be ideal for handling them.
Robotic palletising
Palletising systems that incorporate industrial robots are an excellent choice in palletising and offer many advantages over their conventional predecessors. The programmability of these systems permits simple introduction or modification of layer patterns, ultimately reducing upgrade costs and futureproofing the palletising function. They are also inherently low on maintenance by having fewer moving parts. With the exception of the robot arm itself, most moving parts are contained within the gripper.
The handling of irregular-shaped products is possible with robotic systems - they can be designed to pick up one or multiple packages at a time and place them gently in their destination on the pallet. Designers focus on handling the product correctly and put all necessary handling considerations into the gripper design. There are few other processes in the palletising process, hence gripper design is largely the focal point. The individual pick-and-place nature of a robotic system means that influences such as accumulation and handling are no longer limiting factors.
Hybrid technology
A superior system for handling many bulky and unstable products is hybrid technology. These systems bring together the strengths of both conventional and robotic palletising. The palletiser features an industrial robot that picks product from an in-feed conveyor and places it onto a layer squaring and stripping plate assembly. A whole layer is formed robotically then deposited onto the pallet stack, much in the same fashion as a conventional layer palletiser where the stripping plate slides back placing the product onto the pallet stack. The hybrid configuration becomes an excellent solution for products which don't easily stack on top of each other because the layer squarers lock the products against each other as they are placed on the pallet stack. The layer squaring arrangement also prevents products from sliding off uneven stack formations. The result is a very square and tightly packed pallet load which is very stable.
JMP Engineering's K-Pal Palletiser is an example of hybrid technology.
Stacking frame option
JMP Engineering has developed a further option for handling very unstable round or balloon-like products, like bags of straw or chaff. Its Stacking Frame module can be used in conjunction with a six-axis industrial robot. The Stacking Frame features a pallet hoist and movable side walls. The hoist lifts an empty pallet to just below the opening at the top of the frame where the robot places a layer of product. The hoist repeatedly lowers as more layers are added to the stack, hence the pallet stack is secured inside the frame walls and packs are unable to fall away and move as the hoist is lowered.
On completion of the palletising sequence, the hoist is lowered to its base position and the side walls are pressed inwards against the pallet stack, maintaining product positioning on the pallet footprint. A door then opens, allowing the completed pallet to be conveyed out of the stacking frame and to the next downstream process, like stretch wrapping.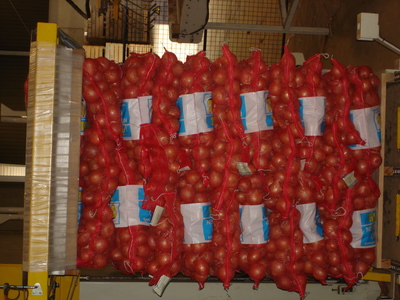 These images show tall, 2.2 m stacks of onions and potatoes stacked at 12-14 bags/min. A Stacking Frame was used to align the bags. This was all done is a dusty farm environment by casual labour. (Wrapping is netting.)
Summary
While conventional and robotic palletisers are commonplace and very useful for handling many products, they may not be suitable in their basic form for handling these irregular packs. However, many of the restraints imposed by packaging formats can be overcome by the selection of appropriate new technologies.
---