Gut-friendly bread developed using 'bush tucker' ingredients
---
A uniquely Australian bread roll has been developed by University of Queensland (UQ) researchers.
The wattle seed bread roll, made with Australian native bush foods, is claimed to provide the recommended daily intake of iron, zinc and dietary fibre. According to UQ, one roll contains two and a half times the iron, six times the potassium and nearly five times the zinc of an average white-bread equivalent.
UQ's Associate Professor Yasmina Sultanbawa worked with Indigenous employment provider Karen Sheldon Group to develop a long-life wholemeal bread using wattle seed and Kakadu plum rather than artificial additives. Ground wattle seed acted as a natural emulsifier to extend the shelf life of the bread, while powdered Kakadu plum was a natural bread improver.
With funding from the Australian Government's Innovation Connections program, Dr Sultanbawa and her team at the Queensland Alliance for Agriculture and Innovation worked to create the gut-friendly bread from ingredients harvested by Aboriginal communities.
Different species and quantities of wattle seed were tested, to determine their nutritional benefits and storage potential, as each cultivar of wattle seed behaves differently when cooked. Seeds from Acacia victoriae produce a coffee aroma when roasted, rendering them unsuitable for bread. Others contain too much fat, which risks going rancid. Species were eliminated based on aroma and flavour, prior to discovering a seed from the Acacia coriacea, which performed the best.
The bread has now been included on the menu at Qantas Club in Darwin. Sarah Hickey, Director of the Karen Sheldon Group, aims to produce the bread on a larger scale, as a par-baked product that can be frozen for up to 12 months and sold to remote communities so they can benefit in terms of nutrition and employment benefits.
Dr Sultanbawa said it was rewarding to work on projects where the benefits went back into communities.
"Once the demand comes we can increase the supply, and then Indigenous communities can reap the social, cultural and economic benefits of developing social enterprises on their own land," she said.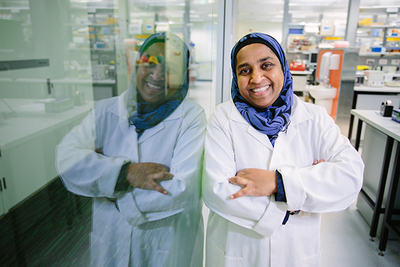 Dr Sultanbawa and her QAAFI team developed a Kakadu plum natural preserve for ready-made meals in 2017, receiving a Business and Higher Education Round Table (BHERT) award for their product.
QAAFI is a UQ research institute supported by the Department of Agriculture and Fisheries, Queensland.