Maxum Foods predicts surge in cheese capacity in Europe
---
A Global Dairy Commodity Update from Maxum Foods has indicated that the fundamentals underpinning the global market outlook remain positive, but may weaken with the increasing expansion in milk supply and a slowing in trade in milk powders. The outlook for commodity product values is missed as butterfat values have stabilised, while increased cheese capacity in Europe will bolster supplies and may cap values.
Maxum Foods noted an improvement in skim milk powder (SMP) fundamentals, due to lower EU and US output and sustained export demand. This is new territory for SMP fundamentals, as they are no longer driven primarily by the EU stock turn. Prices are predicted to remain relatively firm, despite improving fresh product availability from Europe and the US. SMP demand in Asian markets has slowed but is likely to revert to trend.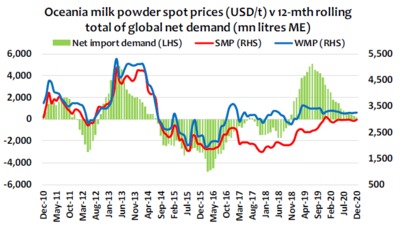 China and Hong Kong added the most trade in the month — up 69.4% year-over-year (YOY) or 14,000 tonnes. YOY shipments to this market have increased in 11 of the last 12 months, according to data from Maxum Foods. Demand for milk powders remained steady, despite the changes in China's internal milk use.
The disparity in cheese prices is forecast to correct, while EU commodity cheese values may be influenced by skim milk powder/butter stream returns. More milk will be diverted to increased plant capacity, which will keep values steady. EU exports rose more than 8000 tonnes YOY in September, with the growth driven by stronger shipments to the United States and South Korea.
Butterfat prices remained steady with improved domestic EU seasonal demand. The EU balance sheet is forecast to improve but demand and supply growth will be closely aligned. Demand in developing markets remains price sensitive, and may continue to pressure New Zealand prices. NZ exports of fats decreased at a slower rate — both AMF and butter were down YOY in September, 2% and 7% respectively. Butter exports from the EU increased by 74%, despite shipping the butter at higher prices than NZ.
US exports reportedly decreased by 13% in September, while the EU increased shipments by 3.2%. Meanwhile, NZ trade rose 14% YOY in September, following three consecutive monthly falls. The increase was driven by stronger sales into the North American market. US products remain competitive due to weakening prices since September, while EU and Oceania prices remain steady.
Image credit: ©stock.adobe.com/au/linda_vostrovska