Mixing old techniques and new technology to make kimchi
---
Two companies in German are relying on Kronen machinery to process vegetables into kimchi and other fermented vegetable products.
In fermented vegetable products, such as kimchi, lactic acid fermentation makes the processed vegetables last longer and alters their taste. The products are seasoned with various spices, bringing healthy ingredients and versatile flavour to a variety of dishes.
The two companies, completeorganics and umami more (operating as Fermentur), have each been producing fermented vegetable products for some time. With rising demand for their products, they introduced Kronen processing machinery for washing, cutting and mixing vegetables at scale ready for the production of the product.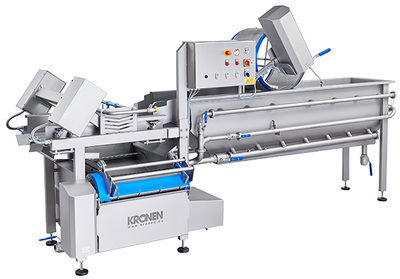 The GEWA 3800V PLUS washing machine is used to wash various types of vegetables before further processing.
Kronen set up GS 10-2 belt cutting machines for cutting cabbage into an appropriate size for kimchi and carrots into sticks. A  GEWA washing machine with vibration discharge was also used for cleaning as well as a K230 salad and fine foods mixer to combine the vegetables. The machinery is able to process the food gently to allow for a high-quality end product and production capacity can be increased.
Once mixed and evenly combined, the vegetables are then processed and fermented into kimchi.
Image credit: ©stock.adobe.com/au/Natasha Breen
Related Products
These vivid and eye-catching pouches will surely be attention-grabbers come this October.
Sunny Queen has added Peeled Hard Boiled Eggs to its product range.
The Bluewater Pro Water Purifier offers water delivery capability to foodservice, restaurant...
---