Enmin's Australian-made equipment provides customised solution
---
For more than 40 years, Victorian-based Enmin has been building custom vibratory and material handling solutions for a myriad of applications and environments.
Enmin General Manager Anthony Gallaher notes several benefits with Enmin's locally made equipment, including the ability to offer individual design and customisation, expert local advice, consistency of supply and outstanding backup and support. The company also supports other local manufacturers, purchasing 304 stainless steel, various steel and plastic machined parts, castings, coils and electrical components as well as outsourcing its laser cutting, all domestically.
Customisation is an important part of the Enmin business. In a recent example, a hopper feeder was required where the depositing system dictated a height that would be unergonomic for the production line staff to easily and safely access the storage hopper.
"Using our design expertise and state-of-the-art software, we designed a mobile unit with retractable operator steps. When not required, these steps can be folded out of the way quickly and with very little effort thanks to pressurised struts on each side," Gallaher said.
"Another benefit of being a local manufacturer is being able to see first-hand a customer's existing production line set-up to ensure our equipment will integrate seamlessly with other components already in place. We can ensure that mechanical components fit with minimal or no modifications and electrical interfaces are all talking to each other."
"There are many pieces of non-branded equipment brought in from overseas and these often need replacement parts; this is where our knowledge and expertise also comes into play to ensure that the right part is specified," Gallaher continued.
"And, of course, being a local manufacturer means we are only a quick phone call away to immediately respond to any customer query or provide service and parts support throughout Australia," he added.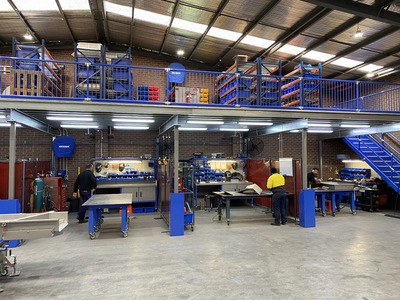 Enmin also invests in R&D to provide Australian manufacturers with the latest developments in materials handling solutions and improve production efficiencies.
An example of this is Enmin's design and development of a range of modular components. "The key benefit of modular components is that it eliminates equipment redundancy and expands with the customer's business. It can be added to, extended and modified in the years ahead as a company's production needs evolve," Gallaher said.
Enmin's range of product handling and vibratory equipment includes the Mi-CON modular conveyor — a hygienically designed full washdown system with multiple standardised components — and a range of hopper feeders and screeners, spiral conveyors, conditioning conveyors and more.
"All our products are designed and constructed first and foremost to meet the rigorous requirements of the food and pharmaceutical industries such as maximum hygiene, ease of cleaning and the reliability essential to meet the demands of continuous 24/7 operation," Gallaher said.
Enmin also has a range of industrial vibrators to suit any industry that handles bulk material.
Related Products
The Heavy Duty Threaded Line Vac is an in-line conveyor that can transport high volumes of...
Regal Rexnord launches its new KleanTop PacTitan Pro Belt at Anuga FoodTec 2022.
In addition to the Mi-CON modular conveyor, other Enmin conveyors include Accumulation, Bag...
---