Cobots improve productivity on packaging line
---
Australia has some of the highest labour costs in the world, so naturally, optimising processes and using skilled labour where they are most valuable makes sense. While some are still of the opinion that automation is costing jobs, automation can result in creating new jobs and enhancing productivity.
Universal Robots (UR) recently helped global healthcare brand Sanofi to free up time where it was needed most, by providing seven UR10 collaborative robots (cobots) at Sanofi's Tours site in France. The integration into packaging lines was used to meet new productivity requirements that optimised the organisation and reduced load carrying and operator movements in palletising boxes with tablets and capsules. Thanks to the installation of the UR cobots, Sanofi has increased its production and improved health and safety related to the reduction of MSDs (musculoskeletal disorders) of its operators. The employees now have time to focus on higher value-added tasks.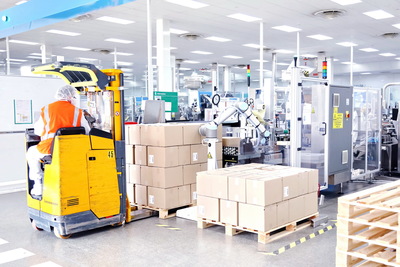 Image credit: Sanofi application images.
"Sanofi wanted to reduce the load carried by the operators working on the line. While one cardboard box wasn't very heavy, lifting a total of around 300 to 700 kg per person per day quickly added up!" said Darrell Adams, Head of Southeast Asia Oceania for Universal Robots.
Used for palletising, the seven UR10 cobots offer a payload of 10 kg and a reach of 1300 mm. According to Sanofi Tour's new works manager, Giles Marsal, these compact cobots are suitable for applications where an arm needs to be installed between two pallets.
"The team were pleased with the ease of programming and the cobots' flexibility, making it possible to add various sized grippers in just a few seconds. The cobots continue working hard, loading and unloading pallets at the end of the line with no strain at all. The application also offers the possibility to change pallets next to the palletising robot safely," Adams said.
Sanofi also noted that the integration of these cobots has brought ergonomic benefits in terms of load carrying and travel, and a notable reduction in the work time on the line for its operators.
The cobots have resulted in improved productivity and turned tasks from repetitive to rewarding for employees.
Adams concludes that just like Sanofi, manufacturers around Australia can also benefit from deploying cobots in a range of industry sectors.
Related Products
The OMRON HD-1500 mobile robot has a heavy payload capacity of up to 1500 kg.
CMTP has received HACCP certification and can now produce a special range of Pal-giene certified...
The Festo EXCT 2-axis linear gantry uses parallel kinematic principles to deliver good dynamic...
---